Features
Aggressive cutting, long lasting durability!
Designed for minimaized warp and precision cutting.
Applications
Ideal for cutting metals such as round bar, pipe, steel sheet, square timber and galvanzed plate.
Specifications
Diameter
(mm)
Thickness
(mm)
Bore
(mm)
Grain
Grit
Hardness
Packing
Outer Box
(pcs×inner box)
Maximum
operation
speed
100
2
16
A/WA
46
P
200pcs
(10pcsx20boxes)
72m/s
(4,300m/min)

◆The unit of diameter, thickness and bore is the mm.
◆Each product lines are available in different sizes, please contact us.
Article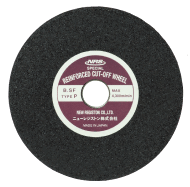 Package