Features
Double reinforced for added safety.
High durability for fewer wheel changes, best suited for field work.
Easy to cut hard materials such as stainless steel.
Ideal for cutting metals.
The depressed center design allows the flange/lock nut to recess within the wheel, it can cut a tack or a bolt from the base!
Applications
Ideal for cutting metals such as small diameter round bar, pipe, steel sheet, square timber and galvanzed plate.
Specifications
Diameter
(mm)
Thickness
(mm)
Bore
(mm)
Grain
Grit
Hardness
Packing
Outer Box
(pcs×inner box)
Maximum
operation
speed
107
2.3
16
NX
30
S
200pcs
(10pcsx20boxes)
72m/s
(4,300m/min)
125
2.6
22
50pcs
(10pcsx5boxes)
80m/s
(4,800m/min)
180
3

◆The unit of diameter, thickness and bore is the mm.
◆Each product lines are available in different sizes, please contact us.
Article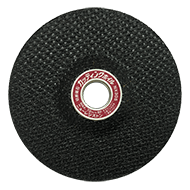 Package