Features
Stack 2 to 5 discs to adjust its flexibility and stock removal.
Use mesh cloth as basic material to eliminate the clogging, heat damage and warp problem.
Conform to any shaped material according to its excellent flexibility.
By using our original glass cloth back up pad brings safety grinding at high speed with no loss of its flexibility.

Applications
Light grinding and polishing of steel, stainless steel, aluminum (including surface grinding, curve grinding, chamfering and finishing spot welding)
Specifications
Diameter
(mm)
Thickness
(mm)
Bore
(mm)
Grit
Packing
Outer Box
(pcs×inner box)
Maximum
operation
speed
105
1
16
80・120
100pcs
(20pcsx5boxes)
72m/s
(4,300m/min)

◆The unit of diameter, thickness and bore is the mm.
◆Each product lines are available in different sizes, please contact us.
Article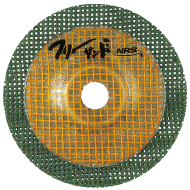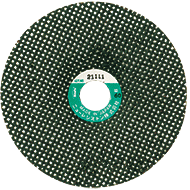 Working surface
Package and backup Pad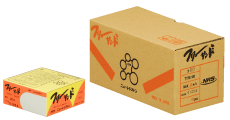 Backup Pad
Each innter box includes a backup pad.
Precautions