Features
No backup pad required.
Designed to minimize clogging and heat damage, increases grinding performance and reduces working hours.
Greater durability than conventional flexible grinding wheel, it helps cost reduction.
Various grit sizes are available to be applicable to different type of materials, there is no need to change wheels for each materials.
Applications
Ideal for weld bead removal and weld bead grinding of metals such as steel, stainless steel and aluminum.
Specifications
Diameter
(mm)
Thickness
(mm)
Bore
(mm)
Grain
Grit
Hardness
Packing
Outer Box
(pcs×inner box)
Maximum
operation
speed
100
3
16
-
36・46・
60・80

-
200pcs
(25pcsx8boxes)
72m/s
(4,300m/min)
125
3
22
-
24・36・
46・60・
80・100・
120
-
50pcs
(25pcsx2boxes)
72m/s
(4,300m/min)
180
3
22
-

24・36・
46・60・
80・100・
120・150

-
50pcs
(10pcsx5boxes)
72m/s
(4,300m/min)

◆The unit of diameter, thickness and bore is the mm.
◆Each product lines are available in different sizes, please contact us.
Article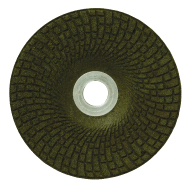 Working surface
Package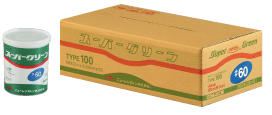 Promotion movie