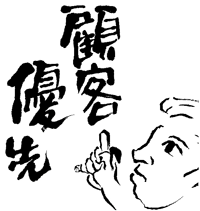 Establish a system to feedback the customers' demands from sales department to technical department quickly to help with new-product development.
We research user-needs to develop and provide better products.
Since its establishment in September 1967, according to our policy " CUSTOMER PREFERENCE ", we have been producing a lot of superior products which are developed based on user-needs.
We have produced:
A red color wheel named New Ace, the up-to-date equipment and standardized production process allows the wheel to have both high grinding performance and long lasting durability that would be impossible with conventional depressed center wheels.
"Super Green" and "One Touch P Wheel" which uses various accumulated technologies.
"Super Green Sigma 36" was developed based on the concept "User-friendly grinding wheel", it is very easy to use, reduce the user's fatigue, and provides high grinding efficiency.
"Green Series Products" brings increasing grinding and polishing efficiency dramatically.
We always keep our policy "CUSTOMER PREFERENCE" in mind and continue to try something which no one else does. We will create a new stage for "Grinding", "Cutting", and "Polishing" wheels.